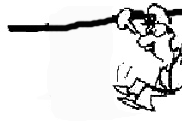 TOXIN ESCAPES AGAIN

John J. Pint
On December 11, Jesús Moreno and 1 set ut to locate El Resumidero de Toxin. Jalisco's longest cave (3005 meters). This scouting trip was supposed to be in preparation for our Zotz Christmas Campout with visiting U.S./ex-German cavers Ray Hardcastle and Cindy Vann.

Toxin is a very elusive town. Last dry season we tried reaching it by driving south from El Grullo, over hot, rocky roads that nearly finished off our 4WD pickup. But the more we drove, the farther away Toxín seemed to recede.

This time we decided to attack from the south and with the Jeep that has replaced our pickup. First we headed out of Guadalajara on route 54, a beautiful, divided highway that goes all the way to the coast, via Colima. Once you've left Guadalajara, the road cuts right through the center of an enormous sallow lake teeming with water birds of many kinds. All along this stretch are signs ordering you to slow down to a crawl during sandstorms, phenomena I had been accustomed to in the Saudi deserts, but did not expect to find in a Mexican lake! But wide patches of fiat salt beds indicated that dry-season evaporation was already in full swing and would eventually create desert conditions.

The pleasant drive to Sayula was complemented by an almost total lack of traffic on the winding mountain road to Venustiano Carranza. Driving along Mexican cliffhangers, with no competition from diesel-belching trucks, was a whole new experience, and we headed down towards what we thought was Toxín, in high spirits.


Driving the Undrivable Road


Crossing the Armería River, we entered a small town and immediately looked

for a place to buy a cool drink. "Excuse us," we told the shop girl "but could you please point out the location of Toxín Cave?" We understand it's only 500 meters from town.

"Well, I guess it must be near Toxín, then."

"What? This isn't Toxin?"

"Oh no. Toxin is on the other side of that huge mountain over there. This is San Pedro Toxín." She then described the road to Toxín as "Undrivable" and suggested we join a group of pilgrims who were walking all the way to Toxin the next day for the Feast of the Virgin of Guadalupe ... and leaving at 3:00 AM!.

"These people have never seen a Jeep in action," I thought as we headed up the road to Toxín. Twenty minutes later we were stuck among the boulders in a dry riverbed that cuts across the "road." We jacked up the two diagonally located, freely spinning wheels and piled up enough rocks to get out of the stream. Onward we lumbered for another five minutes ... before conceding that Mexicans do not declare a road "undrivable" for frivolous reasons.

Next morning, right on time at three, a crowd of happy pilgrims passed by our campsite, but we were too busy trying not to scratch our no-see—um bites to get up and join them. However, at seven it began to rain (yes, this is the dry season!) and, since we were sleeping under the stars - or rather the clouds we decided to get up and follow the burro tracks to far-off Toxín.


Somewhere over the Mountain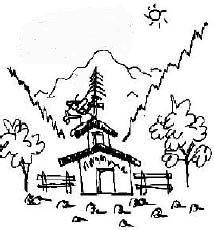 The hike took three and a half-hours. Along the way we saw two places where water suddenly flows for short stretches. These may be connected to the Toxín system, which, according to Carlos Lascano, feeds La Taza resurgence down in San Pedro.

We passed through fertile cornfields on top of the mountain and soon found ourselves surrounded a curious mixture of karst and volcanic rock. The place was beautiful, with thick vegetation. As we made our way down, we came upon a large crowd of people dressed in their Sunday best. In front of a small shrine, a group of male dancers kept time to the beat of a drum. One of them wore a hideous mask that surely harks back to ancient times. While the dance was in full swing, two men were busy on the roof of the shrine trying to tie a small plastic Xmas tree to the top part of the cross! In discussing what we had witnessed, we concluded that these people had decided to make peace with all the gods that had come their way, including that of the most modern religion, Consumerism.


At the Threshold of the Entrance


I hate to admit it, but we never quite made it all the way to Toxín. Once we reached the next valley, some very kind local ranchers pointed us at a low spot near a hillside, claiming that the famous cave entrance was "over there by that tree." This way not too helpful, as the hillside way covered by hundreds of trees. But we had only an hour to spare before heading back up the mountain, so we wasted no time and soon located and checked out two insurgencies that we found, one dry and one wet. To our dismay, neither flowed into a cave entrance that a human being could get into. So, with heavy hearts, we started back.

At this point our luck took a turn for the better. We chanced upon our friendly ranchers again, who then pointed out near which tree (one with ash or smoke-colored leaves) the true entrance lay. They then proceeded to describe the SMES and foreign cavers, who had been inside, restoring our almost-shattered belief that there is a cave at Toxín. Moreover, we learned that one could get to this hard-to-reach town on "drivable" roads from Colima, via Minatitlán.


Having hiked another three and a half hours back over the mountain through the sporadic drizzle, we arrived too tired to brew our traditional "sausage soup." too dead to peek at the armadillo that visited us at night. But the next morning we had recuperated enough energy to get the Jeep back through the river and on to La Taza, where a tremendous volume of cool, clear water surges up into a small reservoir which Lazcano dived in an unsuccessful attempt to enter this cave from its supposed exit. The heavy flow of water suggested it might be better to enter Toxin cave very late in the dry season. To our knowledge, it still contains at least two side passages not explored by previous groups.

Resumen del articulo anterior:


OTRA VEZ SE NOS ESCAPA TOXIN


EN DICIEMBRE DE 1987 DOS MIEMBROS DE ZOTZ INICIARON LA BUSQUEDA DE LA CUEVA DE TOXIN. LA MÁS GRANDE DE JALISCO HASTA EL MOMENTO (3005 MTS DE LARGO). PERO HUBO UN PROBLEMA. EN LA REGION EXISTEN POR LO MENOS TRES TOXINES. SAN PEDRO TOXIN. EL PUERTO DE TOXIN Y SIMPLEMENTE TOXIN. EL GRUPO LLEGÓ A SAN PEDRO, DONDE SE LES INFORMO QUE EL TOXIN QUE BUSCABAN ESTABA DEL OTRO LADO DE LA SIERRA, ASI QUE HUBO QUE CAMINAR 34 HORAS BAJO LA LLUVIA POR UN PASO ENTRE LA SIERRA PARA LLEGAR A TOXIN. DESGRACIADAMENTE NO HUBO TIEMPO DE ENCONTRAR LA ENTRADA DE LA CUEVA. PERO UNA PERSONA MUY AMABLE LES INDICÓ EL LUGAR EXACTO PAPA REGRESAR LA PROXIMA VEZ, LO CUAL TENDRÁ QUE HACERSE EN PLENA TEMPORADA DE SECAS (ABRIL O MAYO) YA QUE VISITANDO LA RESURGENCIA DE LA CUEVA EN UN LUGAR LLAMADO LA TAZA, SE VIÓ QUE LA CUEVA AÚN TENÍA DEMASIADA AGUA.